Guide for Home Businesses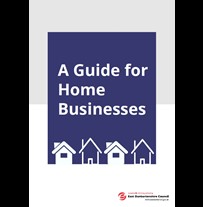 ​Helping you to kick-start your own business from home
Support is available for people considering starting their own business from home.
East Dunbartonshire Economic Partnership (EDEP) - of which the Council is a key member - has produced A Guide for Home Businesses, containing useful information, handy tips and links to further advice.
In 2019, East Dunbartonshire had a higher self-employment rate (6.6%) than in wider Scotland (5.9%). In addition, many more people have been working outwith the traditional office environment due to the COVID-19 pandemic.
The aim of the new Guide is to make it easier for home business owners, or those looking to start a new home-based business, to access information they may need.
The online publication also offers potential business owners details of regulations that they need to comply with and can help put them in touch with the relevant Council services.
Sections include:
- Planning and housing regulations
- Business Rates and Council Tax
- Licensing
- Environmental Health
- Community Safety
- Working online
- Trading Standards
- Business waste
- Working space
- Membership organisations.
There are also a host of useful links - including Business Gateway East Dunbartonshire, HMRC, and the Health and Safety Executive.
Helping you to kick-start your own business from home | East Dunbartonshire Council
The Council also has a dedicated business support page - www.eastdunbarton.gov.uk/covid-19-business-support - including contacts for advice during the pandemic.
Councillor Vaughan Moody, Joint Leader of the Council, said, "The new Guide for Home Businesses has been produced by the Council through our work with East Dunbartonshire Economic Partnership. It's an invaluable source of support and advice to help new home-based enterprises navigate potentially choppy waters. If you are considering starting your own business you can download a copy now."
Councillor Andrew Polson, Joint Leader of the Council, added, "This is an incredibly uncertain time for many people - particularly those in business or looking to start their own enterprise. I am pleased to say that support is available for all types of business - including home start-ups. Small and medium enterprises are at the heart of the East Dunbartonshire economy, helping to provide a wide range of goods, services, employment and local prosperity."
* EDEP's membership includes the Council, Business Gateway, Dunbartonshire Chamber of Commerce, Department for Work and Pensions, East Dunbartonshire Voluntary Action, Federation of Small Businesses, Scottish Enterprise, Skills Development Scotland and VisitScotland.